Here For Good is a strategic legal charity dedicated to securing and upholding the rights of migrants.  We focus on areas of immigration law where there are gaps in legal aid provision, such as the EU Settlement Scheme (EUSS).  We offer high quality free advice to Europeans and their families to help them secure their status in the UK in the modern post Brexit era.
The EUSS advice team is made up of four lawyers who provide a wide breadth of services including operating a telephone advice line, an email advice line and 1-2-1 work for particularly complex cases to support vulnerable people who find themselves stuck or excluded from the system. Here for Good's EUSS team work tirelessly to overcome the barriers often associated with immigration advice provision such as language barriers where interpreters are needed, or digital barriers which can prevent the client from accessing and managing their status.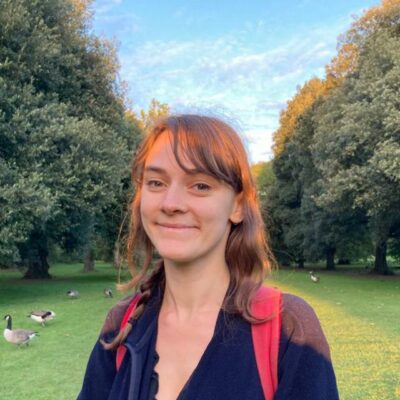 Earlier this year Isobel joined the charity as an EUSS caseworker and volunteer coordinator, having previously worked at organisations such as Solace Women's Aid where she supported victims of domestic abuse and other women in vulnerable situations.  She recently completed her first Here for Good case from start to finish.
I sat down with Isobel to find out a bit more about this case.
The case dealt with an EEA national, let's call her 'A', who had fled her abusive partner after their relationship had broken down. Isobel's past experience of dealing with victims of domestic abuse put her in a position where she could understand the emotional and practical needs of the client and so the case was assigned to her during one of our weekly EUSS case round meetings. 'A' got in touch with Here For Good directly after being referred by her domestic abuse support worker, to try and upgrade her status from pre-settled to settled status under the EUSS.
As with many immigration cases concerning victims who fell abuse, 'A' did not have access to many important documents to prove her residence in the UK.  She was primarily worried that she would have little way of proving residence having left her abusive situation so quickly. She did have a valid passport but was unsure which other documents to give to the Home Office to prove that she had been in the UK for the sufficient time needed to apply for settled status. 'A' was advised by Isobel that she could use bank statements, pay slips, tenancy agreements and medical records to prove residency in the UK and these documents were later provided to the Home Office in the application. The client also had a support letter from the support organisation that referred her to Here For Good which could also be sent to the Home Office as evidence.
After 3 months of Isobel gathering evidence on behalf of the client, the application was successful and Isobel noted the positive changes in the client's mental and emotional state. When Isobel had first met the client, she had been fearful of the Home Office's response to her application and had very little hope in a positive outcome. Isobel told me that it was amazing to see how much the client's attitude changed as the case continued. Once the case was decided, the client was hopeful for the future and had begun to make future plans as she was finally able to envisage a life for herself here in the UK.
Isobel told me more about the intersecting issues of domestic abuse and one's immigration status . She explained that many DV survivors who come to Here for Good are not only fearful of rejection from the Home Office, but also fearful that by changing their own residency status, or detaching it from their abusive partner's, it may lead to them losing their own potentially leading to retaliations from them. Iso explained that the partner does not need not be aware of the changes as there are always safeguards and privacy walls in place to protect the client from any potential retaliations.
The process of obtaining status under the EUSS is not always straightforward, without the help of Isobel and the rest of the Here For Good team this vulnerable client and many others may not receive the legal help that is often so desperately needed.
Hannah Moutrie
Summer intern, Here for Good